There's something about a relaxed breakfast that says, "Today is a good day." A cup of coffee, a warm bowl of oats, and a moment to prepare for the day. That's all I need.
My breakfast helper!
Most days that's not what I get as I dash out the door and eat my Van's waffle with peanut butter in the car. But on the days that I do get that calm oatmeal moment, I'm a happy girl.
A few weeks ago I was sent a beautiful box of mangos from the
Mango board
. They saw me tweeting my
mango salsa chicken recipe
and offered to send me more sweet goodness.
Tropical fruits aren't usually people's first thoughts when it comes to oatmeal toppings, but the mango was the perfect amount of sweet and smooth to compliment the warm oats. The more I thought about it I realized that this wasn't just a good bowl of oats, it was the perfect oatmeal to help recover from a morning workout.
Mango is a nutritional superstar providing 20 essentials vitamins and nutrients. One cup of mango provides 100% of your daily value of Vitamin C. Mangos also have about 20% of your daily requirement of folate. Folate helps with cardiovascular function, so you know you want that heart pumping well when you're out there running.
Oatmeal we know is a power food. The carbohydrates will help your body recover and rebuild from the workout. Oatmeal also has fiber that is filling, great for digestion, and good for lowering cholesterol. It also helps us on our way to 6 servings of whole grains for the day.
Chia seeds provide essential omega-3 fatty acids that can help reduce inflammation in an athlete's body.
Milk (or soy milk) used to cook the oats will give about 8 grams of protein and calcium to help strengthen bones.
It's the perfect blend of relaxation and recovery..and it tastes pretty darn good!
Runner's Recovery Mango Oatmeal
Ingredients:
1/2 cup old fashioned oats
1 cup milk, soy milk, almond milk, or water
1 diced mango
2 tablespoons of chia seeds
Sweetener of your choice, if necessary
Optional - whey protein or coconut butter
Directions:
Cook the oatmeal according to the package directions. Dice the mango (instructions here). Add the mango, chia seeds, and sweetener and mix well.
What does the perfect morning look like to you?
Are you a coffee drinker?
Love and superfruits,
Carissa & Kyle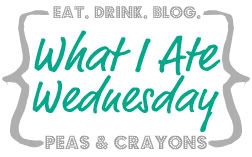 Since this is posting on Wednesday, I'm sharing it with everyone over at Peas and Crayons. Thanks Jen!