What does a fit couple eat on vacation? A lot of things that we don't normally eat. We're on the 20% of our 80/20 diet and I'm sharing some of it on today's What I Ate Wednesday round up.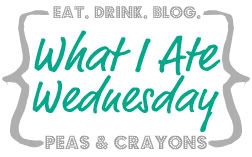 I apologize for the odd look of the blog. There is a problem with my designer's photobucket account and I'm hoping it's resolved soon. Thanks for reading and ignoring that. If you are looking for a particular page or post you can use the search feature on the right side.
Kyle and I are heading home now from a wonderful vacation in Siesta Key, Florida. We stayed at a beach condo of one of his client's and it's been a perfect trip.
Big Olaf's Ice Cream
on the island. This night we both got vanilla soft serve with heath. The other trip Kyle got mint Oreo and I had heath bar frozen yogurt. I just couldn't pull the trigger all the way to the real stuff. The fro-yo satisfied my sweet tooth.
What's your favorite vacation treat?
Have you been to Trader Joe's?
Love and Big Olaf,
Carissa & Kyle