Happy Wednesday! I think I work 20 days in a row, so this is my Monday v.4, but cheers to those of you at your mid-week mark!
It's tradition for me to do a
"race day" eats
post following a half marathon. I love to see what helps fuel me best and the different post race "treats" I'm craving. I usually post them on Wednesdays and link up with Jen at Peas & Crayons for WIAW.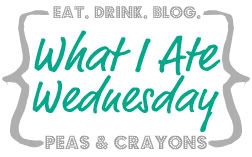 My pre-race dinner was at Bahama Breeze here in Orlando. Kyle, Kelsey, her fiance Matt, and Kyle's cousin Austin, and I all went to celebrate Austin's birthday.
Evolution Fitness
. It was amazing with my peanut butter. I also had coffee with almond joy creamer.
Not sure why it's blurry.
After my "
great success
" at the race I had 1.5 bananas, 3 bottles of water, Nuun, and 1/2 a bag of chex mix. I also spilled half of said bag in the race parking lot...and for that I apologize.
Kelsey and I wanted to quickly get back to Orlando, however we knew we would be much nicer human beings if we ate. We opted for a quick Subway trip. I rarely go to Subway. The chicken creeps me out. That texture!
What is it?
However I had a sweet onion chicken teriakyi flatbread and that did the trick.
Do you remember your first day at a new job? How did it go?
Love and race eats,
Carissa & Kyle