Today's post is a look at my meals in DisneyLand during the
DisneyLand Half Marathon
weekend with my Mom. I happen to think it's fascinating to see what other people eat on vacation. I hope you do too....<enter anticipatory music>...because it's
What I Ate Wednesday
- Theme park style!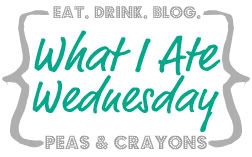 You could call us Disney fans. If you are too check out our other Disney related WIAW link ups - Food & Wine Festival, Disney Marathon
Random Disney chair...it's pink!
Breakfast
My breakfast at DisneyLand was consistent and thus boring. Weight control oatmeal with dried cherries made in my coffee pot. Simple. Affordable. Filling.
Lunch
Our favorite lunch spot in DisneyLand is the quick-service location ,Paradise Pier Grill, in Paradise Pier at Disney's California Adventure. DCA is literally steps away from the Grand Californian where we were staying, so popping into the park for lunch is easy.
Twice we shared a platter of chicken kebabs with chimichurri sauce and a Greek salad. Both dishes are full of bright flavor and nutrients. I'm actually craving this meal as I type. Rating - A.
Dinner
Our first night in California we decided on Downtown Disney for dinner. We had a rental car, but sometimes staying close is best. After "menu shopping" we decided on Tortilla Jo's, a Mexican restaurant. The service was terrible and we nearly left, but we were hungry. We demolished the chips & salsa.
For dinner Mom & I shared a grilled pollo platter. It was a large portion of grilled chicken with verde sauce and vegetarian black beans. Why am I such a fan of beans? The meal was surprisingly good. Rating - B.
Saturday night we wanted to eat inside DisneyLand to get a little theme park time in. We made a reservation at the newly remodeled Carnation Cafe on Main Street, USA. We chose this restaurant after seeing they had spinach salads. We each got our own salad. Mine was spinach with grilled chicken, blue cheese, and some not-so-yummy pickled mushrooms.
Mom went with the grilled shrimp salad route and hers was better.
The location of the restaurant was great, however the server wasn't too happy to accommodate our specific salad requests. Rating - C+
Our final dinner was the one I was looking forward to the most. Weeks before I trip I made a dinner reservation at Wine Country Trattoria at Disney's California Adventure. It's possible I like wine.
The entrance to the restaurant is made to look like a vineyard and it's very well done.
Again Mom & I decided to split several choices. But we each got our own wine flight. That I don't share. I had the flight of California wines and hers was the Italian wines. The winner - Cali baby!
Our appetizer was shrimp with herbed polenta. It was great. The shrimp were cooked well and the polenta was creamy. Best dish of the night.
We shared a small bowl of Minestrone soup also.
Dinner was the chicken. I can't remember the exact menu description of the chicken, but the actual meal was disappointing. Saying the chicken was dry is an understatement. The chicken was also on the bone and I don't like when the menu doesn't disclose this.Luckily we ordered an extra side of broccolini. We took the chicken off the bone and mixed it with the extra veg and voila, dry chicken fixed!
I was a little bit bummed with this dinner I had been really looking forward to. The waiter, however redeemed the Trattoria by bringing my Mom and special dessert for her marathon finish. Wine + chocolate = what dry chicken? Rating - B
What's your favorite Disney dining spot?
Mine is the Brown Derby at Disney's Hollywood Studios. Call me Cobb.
Love and tapas,
Carissa & Kyle