We made it to Wednesday! I think Thursday should be the real weekend-nearing-celebratory day...Wednesdays cam be long...but who am I to judge!
Wednesday is, however a wonderful day to be a blogger. It's What I Ate Wednesday over at
Peas & Crayons
.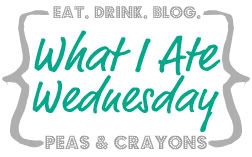 Most Tuesdays I try to make a valiant effort to document my entire day of eating. I usually score around 50/50 on remembering to take pictures of my food. I eat 5-6 times a day and many of those meals are sadly "on the run". Kudos to the "here's my food three times a day" bloggers. That is no easy feat!
I now present to you a day of eats with 50% in pictures. Let's shoot for 75% next week. Aim high.
Breakfast
"In-a-hurry" breakfast
2 Van's Power waffles w/pb
Blueberries
Coffee
Snack #1
Sliced green bell pepper
small v8
Snack #2
Nuts over chocolate Luna bar
Lunch
Delicious leftovers
Spicy garlic shrimp
asparagus
couscous
Snack #3
Banana w/PB
FRS - pre-workout
Snack #4
Post workout Clif kids bar
(I regret eating this - way too much processed food today!)
Dinner
Chicken sauté in coconut oil
Life became overwhelmingly busy last week. As a result of that I found myself grabbing for more carbohydrate heavy, processed, convenience foods. Starting today I'm going to make an effort to eat gluten-free Wednesday - Saturday pm with a break for a party at our house Satruday night then focus hard next week.
What food do you grab when you're busy?
Mine are bars and peanut butter...not terrible in moderation but way in overload this week.
Love and Mr. Peanut,
Carissa & Kyle