Cheers from Australia and hello to my favorite mid-week foodie roundup!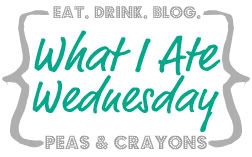 This is my last week in Australia so I thought I would share with you some of my favorite Australian foods. I also want to thank you for your support of my trip and Evolution Fitness with a giveaway! Weeeeeeee!
Breakfast
Every morning I start with gluten free muesli with soy milk.
I've also been sneaking gluten free cookie bites at nighttime.
Drinks
I've fallen in love with this pro biotic juice drink. Kyle loves yogurt, but I eat it much less. I like have the pro-biotic option in a non-dairy way.
Sparkling water. Big fan on any continent.
Big Salads
I discovered a great salad bar near my hotel and I can get roasted pumpkin on my salad!
We need to eat more roasted pumpkin America! I'm going to start a letter writing campaign.
Tim Tams
Evil, evil creatures. Tim Tams are chocolately, crispy, cookie goodness.
Apparently the thing is to bite off the ends and suck milk through the cookie. I've tried. It's not easy, but if you can achieve it...it's magic. Fattening, chocolate magic.
As I mentioned before I have a giveaway for you. And, sorry, it's not Tim Tams! I'm giving away a 6-pack of Rebootizer detox drink.
I first discovered Rebootizer at FHBC 12 and the company sent me to Australia with some. Rebootizer helps fight oxidative stress from either working out or air travel.
It comes is the neatest package. The drink and the mix are separate and you squeeze the pouch to mix. It's only about 22 calories and it tastes like sweet tea. I recovered from my jet lag rather fast and I thank Rebootizer!
You have a chance to win your own 6-pack of Rebootizer. Just use the entry form below.
a Rafflecopter giveaway

Contest ends Monday, July 23. Good luck!
Love and someone please take the Tim Tams,
Carissa & Kyle