Hello friends! It's Wednesday again...every food stalker gawker's dream day!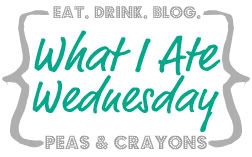 Thanks again to Jen at Peas & Crayons for linking up all of our posts.
I set out with the best intentions to document my entire day of eating. Traditional food journal style. I ended up about 50/50 on that effort. Sorry guys!
Here's my day of eats. Today was one of those "bottomless pit" type days. Mainly in the morning, but I could not stay full. It wasn't the "I want to snack feeling", but genuine hunger.
Grapefruit + Coffee with coconut milk creamer
Frozen banana + spinach + GAT prolein chocolate + PB2 + coconut oil + soy milk
I added the coconut oil, because I THOUGHT fats were supposed to help with satiety. Darn you coconut oil and your medium chain triglycerides for digesting as quickly as a carb.
hydrate yo.
And believe me...it was a challenge to wait until 11am.
Xtreme Wellness tortilla + shredded chicken + black beans +salsa
Post-workout GAT chocolate Prolein + soy milk
Yes, I am 100% aware that it's 90 out. But I just can't stop loving chili. It makes amazing leftovers too. I'm smitten.
We have friends who rave about "Skyline Chili", which is served with spaghetti and has an interestingly sweet taste. I saw Courtney's recipe about a month ago and had to give it a try.

(Courtney also has some fierce burger recipes on her blog so check those out too!)
Maybe this is a recipe you should pin for the warmer months. It's packed with flavor and healthy ingredients. Or you can give it a try now. Be a rebel.
I used ground turkey instead of beef and because I'm a fiber fan I added beans too. I also served it over spaghetti squash in lieu of the traditional spaghetti, but you could serve in on top of noodles, rice, or quinoa if you like. Also for an authentic Skyline feel I think you top it with diced onions and cheese.
Ingredients:
1 package Jenny-O extra lean ground turkey

1 can red kidney beans, drained and rinsed

1 chopped onion

3 cloves choped garlic

4 teaspoons chili powder

1-1/2 teaspoons dried oregano

1-1/2 teaspoons unsweetened cocoa powder

3/4 teaspoon cinnamon

1/2 teaspoon cumin

1/8 teaspoon allspice

1/4-1/2 teaspoon salt

1/4 teaspoon pepper

1 tablespoon cider vinegar

1 tablespoon brown sugar

1 (14.5 oz) can tomato sauce

1 cup low-sodium chicken broth
Directions:
Heat large skillet over medium-high heat. Brown the turkey, onion, and garlic. Make sure to crumble up the turkey.
Add the spices; cook until fragrant, about 1 minute.
Stir in the cider vinegar, brown sugar, tomato sauce, and chicken broth. Reduce heat to low and simmer for 15-20 minutes.
What "seasonal" food do you eat year round?
Carissa & KyleSweet Tooth Courtney's Cincinnati Chili