This Wednesday rocks! It's the WIAW party over at Peas & Crayons, I have Chobani to giveaway AND I'm talking about Disney today!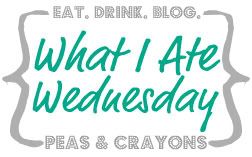 I spend the weekend at DisneyLand working as an announcer for the Inaugural Tinker Bell Half Marathon weekend. I tried to eat healthy, but it's not as easy as when I can pack from home like I did for the WDW Marathon.
Crazy hours, jet lag, and lack of clean food made it hard. Here's a look at some of my eats from around the Happiest Place on Earth!
Best Meal - Grille at Paradise Pier at California Adventure Park - Greek salad + grill chicken + curried rice
Most creative meal: Catal at Downtown Disney - Arugula salad with Manchego cheese + apple + candied pecans and whole wheat pasta + chicken + brown butter
Most memorable dinner- Blue Bayou inside the Pirates of the Caribbean ride in DisneyLand. Mom, Kyle, George, and I went here in 2008 and it's a tradition. It's a little pricey, but an amazing location. Ask for a water-side table and enjoy a view of the Pirates ride. They sure don't have this in Orlando!
Kyle was the birthday boy in 2008
Cajun salmon and goat cheese
Most nutritious meal - Fruit platter which was delivered to my room
Most necessary meal - Coffee, coffee, coffee.
Do you take me less seriously in wings?
And now - the giveaway!
While I was away Kyle recieved a very special delivery - CHOBANI!
I think it's no secret that we love the high protein that Chobani brings. Kyle literally has one a day and I use it in place of so many "creamy" ingredients when I cook.
I am particulary fond of my Greek yogurt oatmeal cookies and using it in a curry tuna salad.
The good news is that I'm sharing the Chobani love! *
It's a GIVEAWAY!!!!
insert flashing lights and horn sounds here*
One lucky reader will win their own healthy, protein-packed Chobani package.
Here's how to enter:
1. Leave a comment here and tell me why you love Chobani.
2. Tweet "
I'm a
@
Chobani
fan and I just entered to win some yummy yogurt with
@
CarissaAnneB
http://ow.ly/8NT4K
"
3. Follow @CarissaAnneB on twitter.
4. Follow @Chobani on Twitter.
That's it! One entry per each thing you do and you can RT multiple times for extra entries! :) Leave me a comment
The winner will be announced Monday, February 6.
Good luck!
Love & Greeks,
Carissa & Kyle