Welcome to WIAW v 14.0. The WIAW of the bean explosion.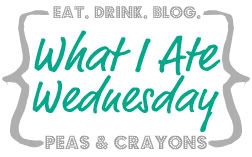 What I Ate Wednesday is a collection of blogger food journals organized by
Jen at Peas & Crayons
. You can check out all the great bloggers
there
.
And now onto the food I ate...
8am
Soy milk, berries, oatmeal, chia seed, spinach, Pea protein smoothie
10am
v8 low sodium
11am
Sun Dried Tomato Tuna
Annie Chung's Wasabi Seaweed
115pm
apple
3pm
No beans - they exploded
So I compensated with Quaker rice cakes
515pm
1/2 cup Fiber 1 + raspberries + soy milk
Eaten pre-run with Grey's Anatomy
6pm
7pm
745pm
Archer Farms chicken garlic & spinach sausage with caramelized onions
Roasted red potatoes
Spring Mix salad
Now the bean explosion. Oh the bean explosion!
When I get home from school I am starving for lunch. I'm ravenous. I'm also OCD so I clean up the kitchen, take care of my kitties, and then make lunch. This only makes me hungrier and obviously a little off kilter. I was crisping my quesadilla and microwaving some baked beans. Took the beans out of the microwave - enter hand spasm - Beans fall to the floor. With an intense velocity sticky, hot baked beans fly all over my kitchen. No bueno.
Love and the magical fruit,
Carissa & Kyle
BE sure to check out past WIAW parties:
WIAW:
version one
,
two
,
three, four, five, six, seven, eight,
nine
,
ten
,
eleven, twelve, thirteen