Hey gang! It's Wednesday and time for a food recap. Sadly today was an epic food fail. :(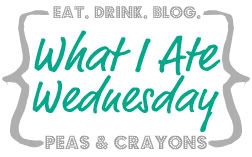 But it didn't start out so bad...
730am - Cereal Mash Up- Kashi Go Lean with Fiber 1, chia seeds, unsweetened almond milk, blueberries
10am- V8 (highly recommended by my nutrition prof)
1130am - 2 rice cakes with 1 Laughing Cow Light Swiss Wedge
12pm- pear
1pm- Greek salad with leftover rotisserie chicken and a sweet potato. I found this great lettuce mix called Organic Girl SuperGreens that I've been loving. Spinach, red & green swiss chard, tat soi (what's that?), arugula, and spinach. It has a bright flavor and tons o' nutrients!
4pm- small bowl of Fiber 1 with almond milk
6pm- I made a delicious batch of carrot cake protein cake! Yum-o! And I nibbled on some sweet batter! Check out the recipe here.
7pm- FOOD FAIL!
I had to run to Target this afternoon. Since I was there I figured that I would jazz up my dinner plans. I had been admiring a curry dish Lindsay made on her blog. So I decided to make curry! Only to get to the aisle and see that they were totally out of coconut milk! Wiped clean! There was a run on coconut milk? Apparently.
Once I get my mind set on something I'm pretty much determined. I wanted curry. End of story. They had this "10 minute simmer sauce". It seemed a little watery, but I thought I'd give it a try. I also got some mushrooms and snow peas for my dish.
stupid sauce
I sauteed my chicken briefly to give it some texture and followed the directions on the jar. It became a soupy, tasteless pot of yuck. How can a curry sauce have zero spice??? It did!
I was so mad at that sauce that I never even took a pic of the finished products. I ate it, because I'm stubborn like that.
And that's all I'd like to say about that.
Not a very glamorous Wednesday. I'll try to jazz it up next week.
Anyone have a great, easy curry I should try?
Catch up on past posts: version one

,

two

,

three, four, five, six, seven.
Love and failure,
Carissa & Kyle